Upcoming Events
November 14 & 15: New York City, New York
In The News
Hospitality Design
July 2021
We are thrilled to have been a part of the Four Seasons Madrid. We created some stunning pieces with BAMO for this beautiful hotel.

Hospitality Design
July 2021
We are so excited to announce that we, and our President, Reg Tiessen, are featured in the June/July 2021 edition of Hospitality Design!
Head to the link below to see our advertorial and to learn a little more about Fleetwood Fine Furniture International.
Business Insider
June 2021
Congratulations to the Dalmar For Lauderdale – A Tribute Portfolio Hotel for making Business Insider's List of Best Hotels in Florida. We love seeing our projects make lists like this!

 Top Hotel News
June 2021
We worked with Marzipan Design Studio to create some great pieces for the newly renovated Four Seasons Hotel Denver.

10 Best
April 2021
The Park Hyatt Aviara is a beautiful project that we recently completed with Wimberley Interiors, and it's the perfect place for a California getaway.

Prism
February 2021
We are thrilled to have been a part of this beautiful project with Hirsch Bedner Associates! The Fairmont Chateau Whistler is the perfect place to relax after hitting the slopes.

Hotel Designs
January 2021
Fleetwood is excited to be participating in Sheraton's beautiful new design. We have recently been awarded the casegood production for Sheraton Gateway Hotel in Toronto International Airport, designed by Moncur Design Associates.

Forbes
December 2020
We are very proud to have four of our recent projects (St. Regis Toronto, St. Regis San Francisco, Park Hyatt Aviara and Four Seasons Punta Mita) featured in this article from Forbes magazine.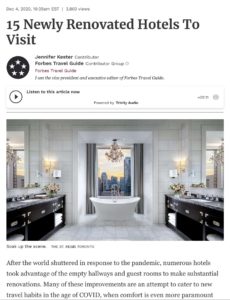 Hospitality Design
March 2020
We are so proud and excited to have worked with Chapi Chapo Design on the renovations for The St. Regis San Francisco.  It's a beautiful hotel and we are thrilled to have been a part of it!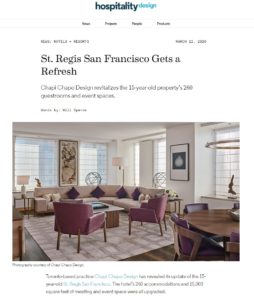 Be sure to follow us on social media for all of our most recent news features: