Upcoming Events
Hotec Design – June 19-22 | Scottsdale, AZ
BDNY – November 12-13 | New York City, NY
In The News
Travel & Leisure
October 2022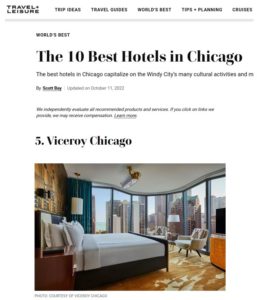 Hospitality Net
March 2023

SquareMile
April 2023

Forbes
October 2022

Nuvo
January 2023

Hotel Management
January 2023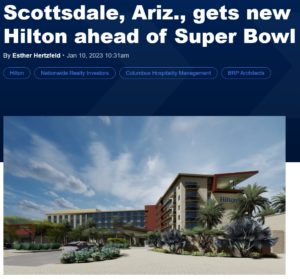 Hospitality Design
October 2022

Forbes
September 2022

Montreal Gazette
June 2022

Hotel Management
May 2022
Hospitality Net
April 2022

Luxury Travel Advisor
April 2022

Hospitality Net
April 2022
Hospitality Design Awards
April 2022

We are thrilled to announce that one of our projects, the Park Hyatt Toronto has been nominated for a Hospitality Design Award in the Luxury category! Congratulations to The Park Hyatt Toronto and Studio Munge design.
Locale Magazine
March 2022

Storeys.com
February 2022

Despite the challenges that the pandemic has placed on the hospitality industry, a number of new and renovated hotels in Toronto are thriving!
Congratulations to Park Hyatt Toronto and Sheraton Gateway Hotel Toronto for this feature – it's always exciting to see our local projects in the media!
Hollywood Reporter
January 2022
With ski season in full swing now, The Madeline Telluride is definitely a hot-spot destination! It is a hotel that we are so proud to have had the opportunity to create some beautifully-crafted items for.

Nuvo
January 2022
We are very proud to have created a number of items (including tables, dividers and the reception stand) for the Writers Room bar at the iconic Park Hyatt Toronto.

Vogue
January 2022
It's a great day when one of your projects is featured in Vogue! The Madeline Telluride was featured as a luxury ski resort for those looking to get away this winter.

Travel & Leisure
September 2021
Fall has officially arrived, which means you may be planning your winter holidays. Add the newly-renovated Madeline Telluride to your plans – it's a beautiful project that we recently completed with Rose Ink Workshop. The hotel just made Travel & Leisure's list of top Colorado resorts!

Travel & Leisure
September 2021
Another list from Travel + Leisure Co. featuring two of our projects. Congratulations to Viceroy Chicago and Thompson Chicago for making this list of Best Chicago Hotels!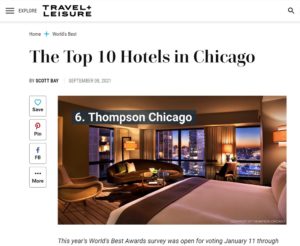 Breakfast Television
September 2021
What a great feature! We are so honoured to have been a part of the renovations to this beautiful hotel. Congratulations Park Hyatt Toronto and Studio Munge on the grand re-opening!

Hospitality Design
July 2021
We created some stunning pieces with BAMO for the beautiful Four Seasons Madrid. This hotel was featured on the Hospitality Design website this month – view the article below.

Hospitality Design
July 2021
We are so excited to announce that we, and our President, Reg Tiessen, are featured in the June/July 2021 edition of Hospitality Design!
Head to the link below to see our advertorial and to learn a little more about Fleetwood Fine Furniture.
Business Insider
June 2021
Congratulations to the Dalmar Fort Lauderdale for making Business Insider's List of Best Hotels in Florida. It's exciting when we see our projects make lists like this!

 Top Hotel News
June 2021
We worked with Marzipan Design Studio to create some great pieces for the newly renovated Four Seasons Hotel Denver, and it's great to see this project featured in Top Hotel News this month.

10 Best
April 2021
The Park Hyatt Aviara is a beautiful California project that we recently completed with Wimberley Interiors.

Prism
February 2021
We are thrilled to have been a part of this beautiful project with Hirsch Bedner Associates! The Fairmont Chateau Whistler is the perfect place to relax after hitting the slopes.

Hotel Designs
January 2021
Fleetwood is excited to be participating in Sheraton's beautiful new design. We were recently awarded the casegood production for Sheraton Gateway Hotel in Toronto International Airport.

Forbes
December 2020
We are honoured and pleased to have four of our recent projects (St. Regis Toronto, St. Regis San Francisco, Park Hyatt Aviara and Four Seasons Punta Mita) featured in this article from Forbes magazine.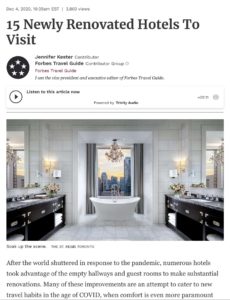 Hospitality Design
March 2020
We are so proud and excited to have worked on the renovations for The St. Regis San Francisco.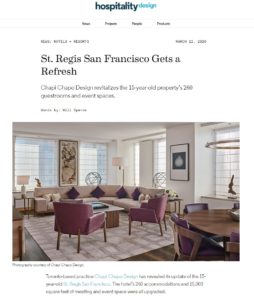 Be sure to follow us on social media for all of our most recent news features: